🔥 Limited-Time Opportunity 🔥
Billion Dollar Market Disruptor!
Let me give you SIX NEW MONEY MAKING STRATEGIES you can deliver with a proven, high-value service most can't touch…
Before You Scroll ⬇️ Please Watch
Don't Get Left Behind Again...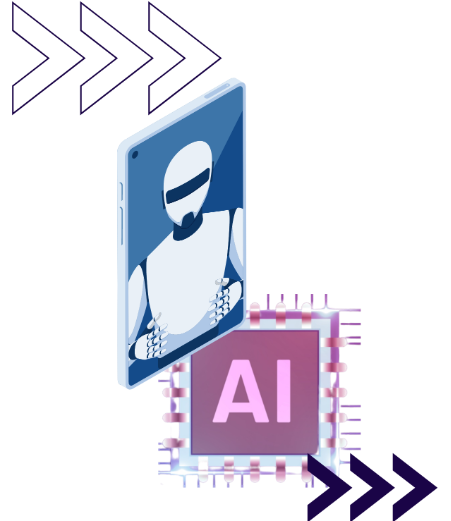 We Revolutionized Video Marketing For Agencies Using the Latest Video Technology....



🔑 Unlocked studio quality video for everyone...
🔑 Showed thousands of marketers how to profit...
🔑 Revealed strategies that continue to work to this day...

Before this, it was nearly impossible to compete & win without...

❌ A huge budget, with expensive staff!
❌ Massive teams for quick turnaround times!
❌ Industry experts who knew the expensive software!

Now With Advancements in Ai Video Spokes Models We Are Changing The Game Again...

And what comes next is going to unlock a new world of possibilities that can turn any agency into a video production powerhouse practically overnight!
NEW Money Making Strategies!
Now's Your Chance to Impress Businesses by Combining Reputation Marketing, Video & Advanced Artificial Intelligence With One Proven System!
Inside the New Video Engine are SIX Money-Making Video Strategies including...

🔥 NEW Teaser Videos!
🔥 NEW Press Release Videos!
🔥 NEW Welcome Website Videos!
🔥 Reputation Review Trailers!
🔥 High Converting Review Commercials!
🔥 Hiring & Employee Testimonial Videos!

And now for the first time EVER...

🚀 The New Ai Engine allows you to completely customize your videos in a whole new way!

No Experience or Technology Needed...

❌ No Costly Crew or Camera Equipment
❌ No Expensive Actors or Trained Voice Talent
❌ No Time Consuming Editing
❌ No Experience Necessary to Start from Scratch

And don't forget video creation is only the beginning, because you still have push-button syndication...

🔍 Google and YouTube will rank your Videos!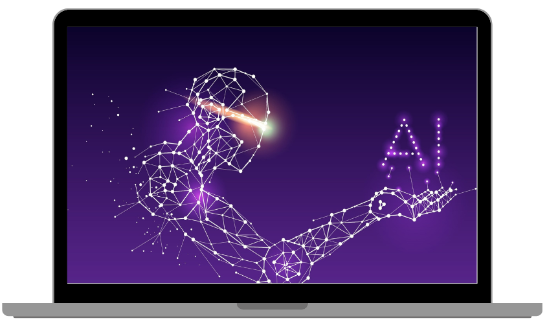 Statistics Businesses Cannot Ignore:
96% of consumers find video helpful when making a decision!
77% of consumers consider companies that create online video as being more engaged with customers!
58% of consumers believe that a company that produces video can be trusted!
Welcome to the NEW RepVideos!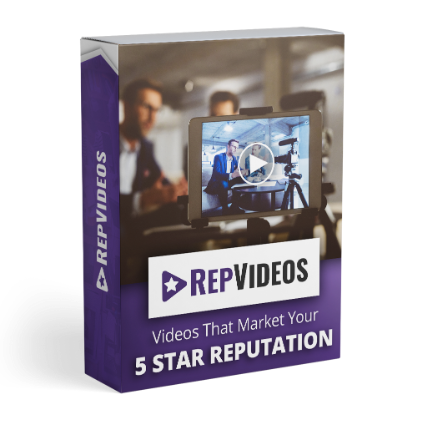 If you think you know RepVideos, think again...

The NEW RepVideos AI system is a fully automated marketing platform that combines the most powerful types of marketing strategies together: reputation marketing, video services and now advanced artificial intelligence!

Along with proven strategies, RepVideos AI includes access to you everything you need to create custom, high-quality videos with little-to-no expeirence required.

In less than 20 minutes, you can easily create & syndicate videos for clients that are proven to convert following the six money making strategies!

Create a 30 sec teaser to get more appointments or monthly review trailers to build a residual income, the opporutnities are endless...
Members Only Opportunity!
Custom Videos You Can Easily Sell For $500-$1,000
⬇️ fulfill in minutes!
⚠️ Today the $1,200 New Member AI Set Up is Wavied...
Get RepVideos Pro including
10 Videos/mo
Right Now Only $99/mo!

Get RepVideos Pro including
50 Videos/mo
Right Now Only $199/mo!

Plus... $16,500 in Fast Action Bonuses!
4 PART Video Training Series!
[$1,500 VALUE]
SOLD OUT! On-Demand Access ONLY!
Learn from an industry leading AI expert how to effortlessly impress businesses by combining Video & Artificial Intelligence with one push-button, proven system... even if you have no experience!

👉 Session One: Kickoff! Getting Started With AI
Hit the ground running with RepVideos AI

Create Your Agency Own Sales Video!

👉 Session Two: Over The Shoulder Prospecting
Word for Word Prospecting Scripts

Quickly Identify The Perfect Niche

Build A Steady Flow Of Booked Appointments

👉 Session Three: Closing The Deal
DFY Sales Presentation Script

Leveraging The Production Demo Video

Closing Strategies

👉 Session Four: Optimizing Your AI Videos
Learn Bulletproof Fulfillment

Best Tips For Better Quality

Learn How To Create 5 Types Of Videos
​​​​​​
🔥 Plus, discover additional strategies, feedback and insights to grow your Marketing agency!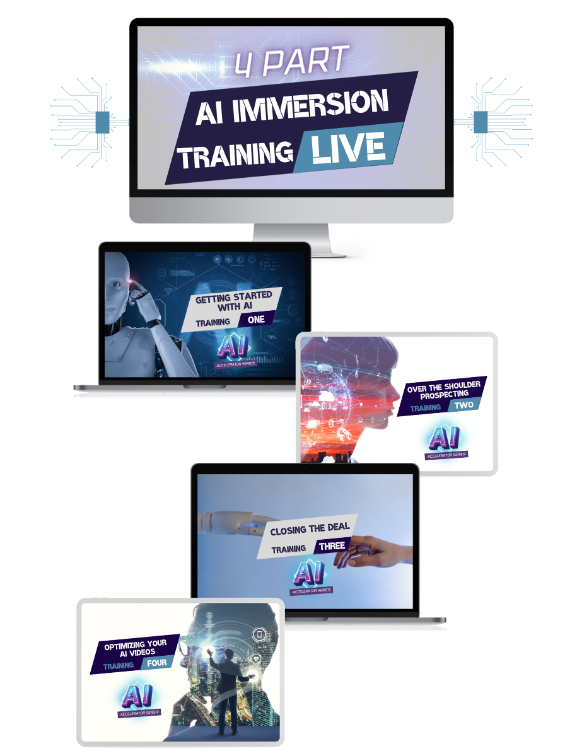 *Event details & ticket delivered via email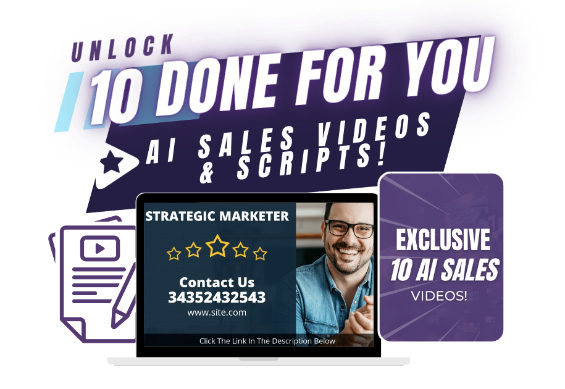 GET 10 NEW DFY AI SALES VIDEOS & SCRIPTS!
[$15,000 VALUE]
Join before this limited time offer expires and receive exclusive access to the NEW RepVideos Platinum Pack

✅ Includes 10 NEW DFY Sales Videos to help close your next sale!

✅ Each DFY Sales Video is being carefully crafted, features unqiue calls to action, can be customized to your agency in minutes and will be delivered to your account!
✅ + 10 DFY sales scripts to help you reach new markets and customers without the stress or overwhelm of where to begin or what to say!
Making Money with Video Has Never Been Easier!

NEW Money Making Strategies with Same PROVEN Formulas!
Instantly unlock six proven formulas to help you create new revenue for your agency that will give you a clear path from uncertainty to success...
🔥 NEW Teaser Videos: 30 second teaser videos are the perfect lead magnet to get the attention of prospects!
🔥 NEW Press Release Videos: Help businesses stand out in a crowded market with custom press releases videos!
🔥 NEW Welcome Website Videos: Hook prospects with a compelling message to convert prospects into profits!
🔥 Reputation Review Trailers: The perfect way to show off dozens & dozens of 5 star reviews for a business!
🔥 High Converting Review Commercials: Wow businesses with 90 sec commercials worth over $2,000!
🔥 Hiring & Employee Testimonial Videos: What helps good customer reviews? Great employee testimonials...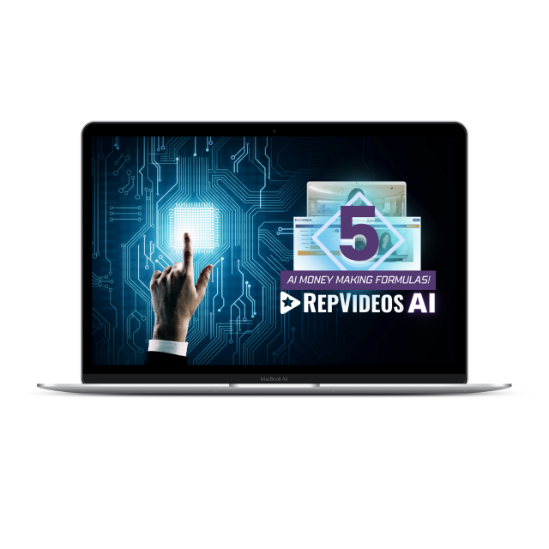 Choose From 20+ SpokesModels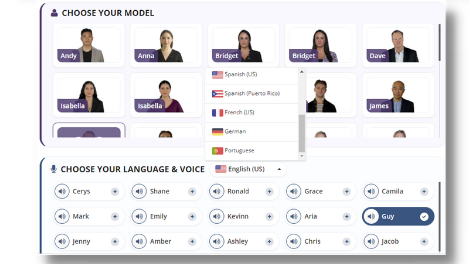 Even More Customization with the NEW AI Video Models!
Cast off the limitations of live Spokes Models! With AI you can now have the SpokesModel say anything you want, and nothing you don't!
👉 AI SpokesModels Can Be Scripted To Say Anything You Want!
👉 Create New Powerful Videos! From Sales and Welcome Videos To Testimonials... Anything You Can Imagine!
👉 Choose From A Wide Variety Of Languages, Accents, and Models

Place Your AI Video On ANY Website With Unlimited Video Popups!
RepVideos AI's proprietary technology makes creating & syndicating Hollywood studio videos that are professionally designed easier than ever!
🚀 Simply copy and paste a widget code into any web page and add videos you can control from inside RepVideos!
🚀 The perfect strategy for adding a welcome video or sales video to any website!
🚀 Includes full analytics and split testing. Rotate videos and maintain completely control from inside the software!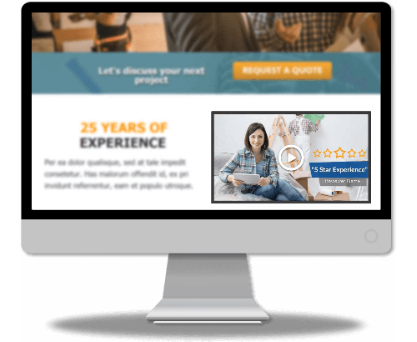 And... $15,000+ in Members' Bonuses!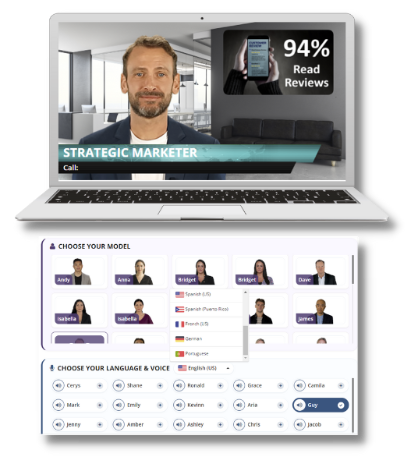 Unlock 20+ AI SpokesModels
Male, Female, Professional, & Casual!
Take advantage of 10 different accents and languages including Australian, New Zealand, Spanish, Puerto Rican, German, UK English, French & Portuguese!

Each of the AI Spokes Models is modeled after a real live person and will say anything you want!

Create Royalties Free Videos for SEO, Email, Social Media, & Websites!

DFY AI AGENCY BUILDER PACK
Everything You Need To Start Closing Sales!

Get a step by step proven sales method that is responsible for closing thousands of deals.

Get everything you need including slide decks, presentation notes, transcripts, and done for you email campaigns!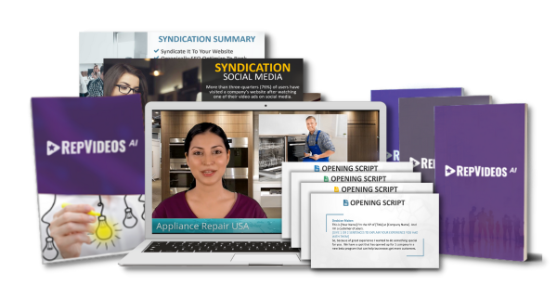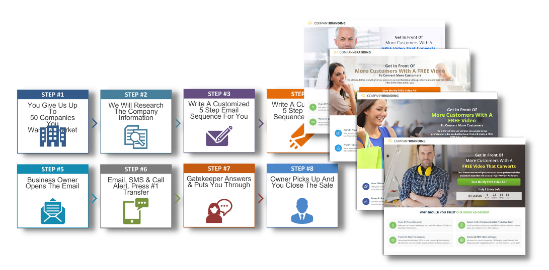 AI Power Prospector:
Done For You Email Campaigns + Unlimited Lead Capture
Get 50 exclusive done for you email campaigns and use them to start reaching your prospects!

But that's not all, because RepVideos is a true Video Marketing Business-in-a-Box that also comes loaded with a Lead Capture System that features 18 professionally designed done-for-you Lead Capture Pages for lucrative niches.

Simply drag & drop to get started in minutes!
Everything You need To Find & Reach Leads!
90 Day Roll Over Credits!
If you're busy next month due to all of your NEW clients, no worries!
As an exclusive bonus, you will automatically have rollover credits as an active feature inside your account.

Any credits that remain unused at the end of the month will roll over into the following month's credits, in addition to what you are already allocated. It's that simple!
Credits are limited to a total of 75 credits, and expire after three months.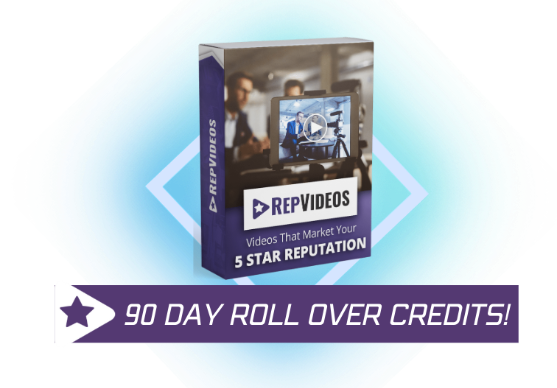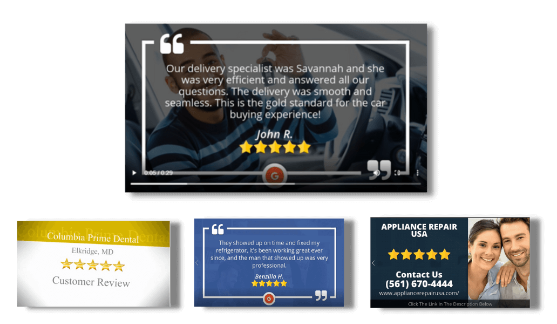 Create Unlimited 30 Second
AI Review Commercials
The Perfect Lead Magnet To Upsell Your AI & Spokes Model Videos!
Each Non Spokes-Model 30 second commercial has 3 unique sections. Use these videos as free giveaways to get your foot in the door with new clients. Sell them to your clients for $99-$199 each!

They also make the perfect give-away in return for referrals!

Ready to Join these Success Stories?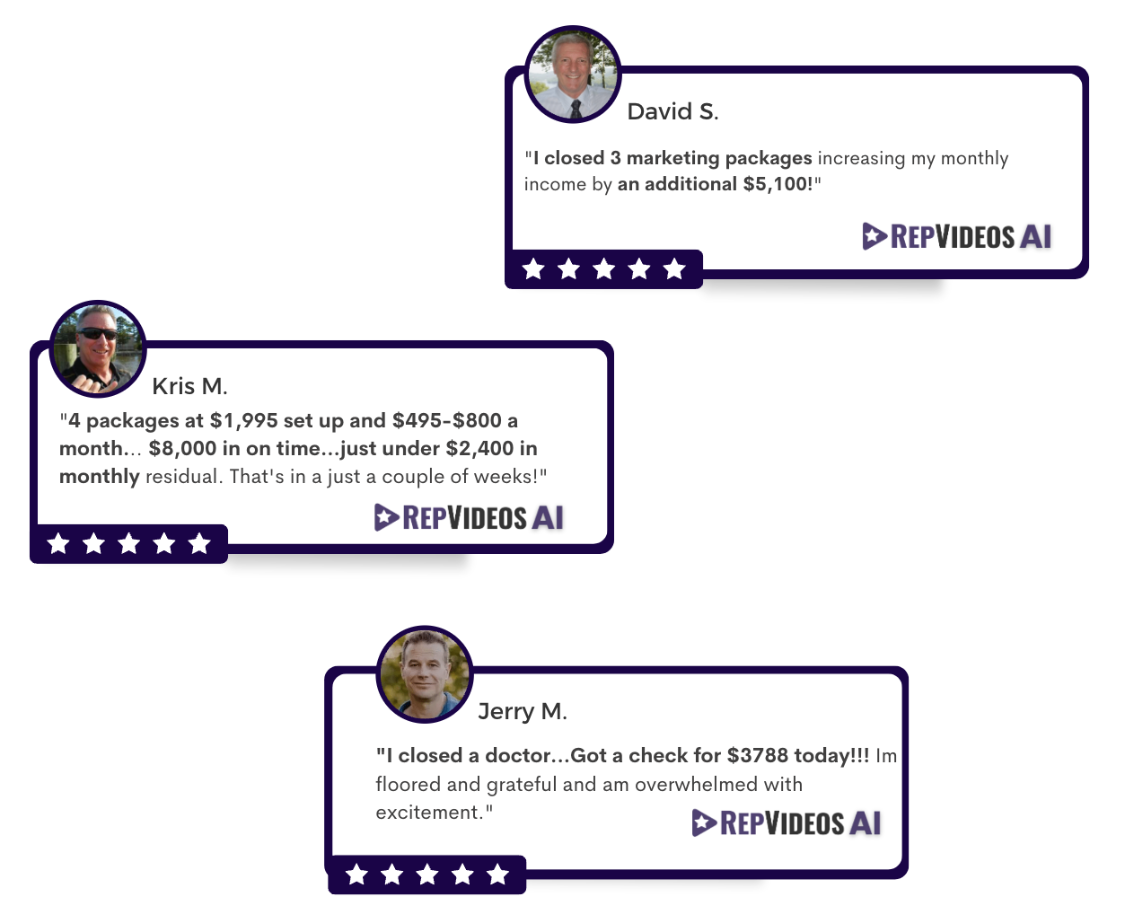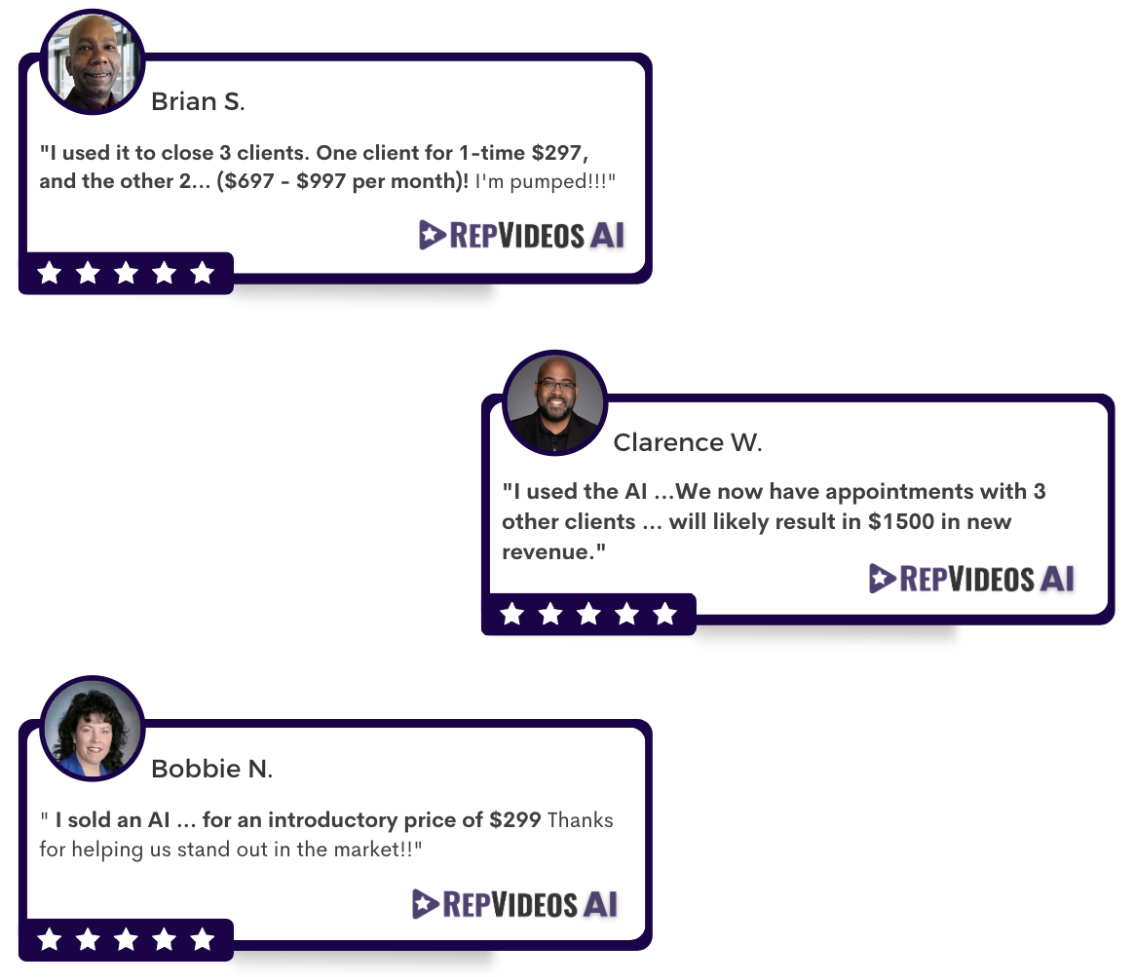 Maybe You Still Have Questions...
How Do I Find Leads for RepVideos?
Inside RepVideos you will find everything you need to create success right away! We have a lot of other strategies to share with you in the upcoming Live Immersion training and inside the member's area.
I don't have a website to sell Video or Marketing. Don't I Need One?
Absolutely not. Get started quickly with your Lead Capture Page bonus. You'll be able to add your branding to those pages in just a couple clicks!
Do I have to access my client's social media to post a RepVideo?
No, you don't. You can send them an email from inside the software that will have them connect their accounts automatically. They never need to share a password and you never have to lift a finger!
What are Video Production Credits? How many do I get?
1 Video = 1 60 second review video with a real human or AI spokesmodel. You get 25 credits per month. But don't forget you get unlimited 30 second videos (with no spokesmodel) and 90 days of rollover credits in the bonuses
What About Rollover Credits?
Every month you have 25 production credits to create videos. If you don't use them we will roll them over into the next month for up to 90 days!
How Can I Generate Leads In The Next 24-48 Hours?
You can start by giving away 30-second commercials. But don't forget to check out all the done-for-you sales resources included in your bonuses. They will give you all the details to get started immediately
I'm Not A Designer and I Have No Video Experience… How Can I Create Great Looking Video
We create the videos for you. We are the bakers, you are just dropping off the ingredients. Tell us the basics and we will deliver a video that your clients will love!
Is RepVideos Only for Review Videos
With the new RepVideos AI you can create Sales Videos, Website Welcome Videos, Employee, Staff, and Testimonial Videos. The only limitation is your imagination!
How Much Should I Charge?
Most of our partners start at $399 per video and ask for a minimum of 3 referrals in your niche. You can easily build value with the New AI SpokesModels or by stacking video with your existing service packages.
How Can I Use RepVideos As A Foot In The Door Strategy?
By giving away a thirty-second review video, and calling businesses as a producer offering the "cover the production costs". You can get your foot in the door quickly and turn your offer to give into new client relationships. We cover more detail in our sales materials and the upcoming Immersion Training
⚠️ LAST CALL ⚠️
Get Ready To Create AI Videos On Autopilot!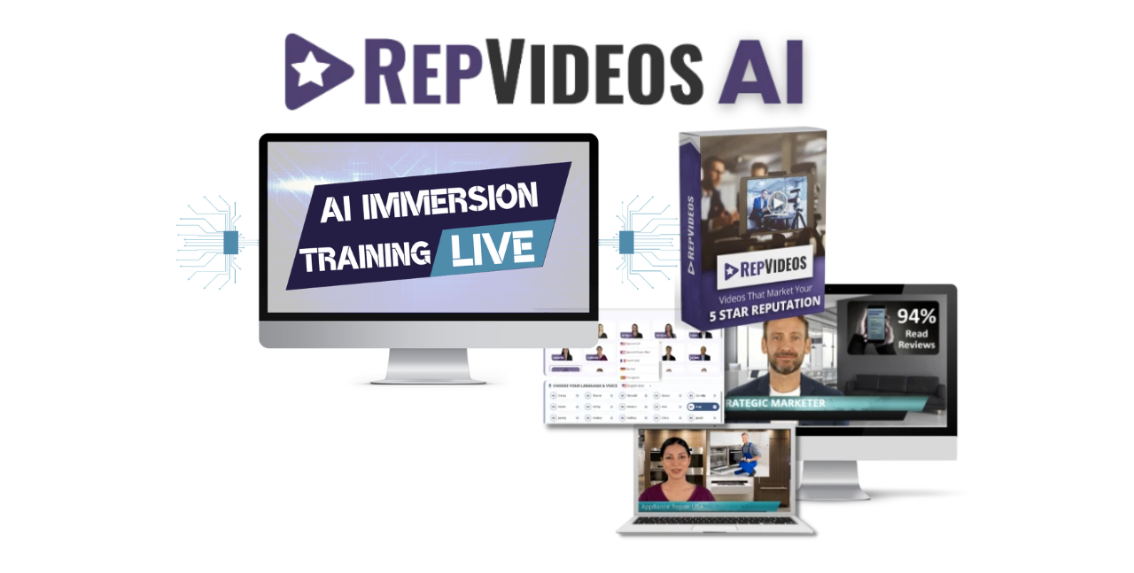 ⚠️ Unlock the New RepVideos +
AI Video Models for a Fraction of the Future Price...
➡️ Get Your LIVE 4 Part AI Immersion Training Ticket & Thousands in Bonuses!
Get RepVideos Pro including
10 Videos/mo
Right Now Only $99/mo!

Get RepVideos Pro including
50 Videos/mo
Right Now Only $199/mo!

Strategic Marketer can not and does not make any guarantees about your ability to get results or earn any money with our ideas, information, tools, or strategies.
Nothing on this page, any of our websites, or any of our content or curriculum is a promise or guarantee of results or future earnings, and we do not offer any legal, medical, tax or other professional advice. Any financial numbers referenced here, or on any of our sites, are illustrative of concepts only and should not be considered average earnings, exact earnings, or promises for actual or future performance. Use caution and always consult your accountant, lawyer or professional advisor before acting on this or any information related to a lifestyle change or your business or finances. You alone are responsible and accountable for your decisions, actions and results in life, and by your registration here you agree not to attempt to hold us liable for your decisions, actions or results, at any time, under any circumstance.
This site is not a part of the Facebook website or Facebook Inc. Additionally, This site is NOT endorsed by Facebook in any way. FACEBOOK is a trademark of FACEBOOK, Inc.